Welcome to the
Anderson County KYGenWeb Project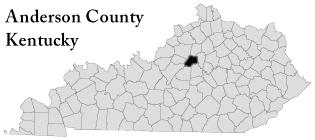 Anderson County, located in Kentucky's Bluegrass region was established on January 16, 1827 and was formed from
Franklin, Mercer , and Washington counties.
It was named in honor of Richard Clough Anderson, Jr. (1788-1826), Speaker of the U.S. House of Representatives,
first U.S. minister to Columbia, and nephew of General George Rogers Clark.
The county seat is Lawrenceburg, located approximately 30 miles west of Lexington and
12 miles south of the state capital of Frankfort and 50+ miles east of Louisville.
It was incorporated, originally as Lawrence, in 1820.
Anderson County is bounded on the east by the Kentucky River and Woodford County, on the south southeast by Mercer County,
the south southwest by Washington County,
west by Nelson County,and Spencer County, northwest by Shelby County and north by Franklin County.
The Bluegrass Parkway runs through southern Anderson and I64 is just north of the county.
Our neighboring counties are:
Franklin, Mercer, Nelson, Shelby, Spencer, Washington, and Woodford.
---
Anderson County Information (on this site)
USGenWeb Project Links
The USGenWeb Project Archives
USGenWeb Archives Pension Project
USGenWeb Family Group Sheets Project
USGenWeb Census Project

Links to Anderson County Information
Anderson County Archives (in the USGenWeb Project)
Anderson County Chamber of Commerce
Anderson News Online
County and City Officials
Anderson County Historical Markers
Anderson County Queries, Old HotBot System (1997-98)
Search this Site site search engine by freefind
KYGenWeb Project Links
KYGenWeb Index
KY Vital Records Project
KYGenWeb Special Collections
Kids KyGenWeb Project
Eastern State Hospital Project
KYGenWeb Family Group Sheets Project
KY Footsteps Archives
Camp Nelson National Cemetery

Other Sources of Interest
Research Aids/Publications for sale
Info on Luther Davenport's cd/book Pioneers & Patriots of Anderson County, Kentucky
MailLists
E-mail Registry
Kentucky Historical Society
KY Department of Libraries and Archives Kentucky Genealogical Society
Newspaper Abstracts
KY Newspaper Microfilm Database
Please observe the copyright as outlined on the
Homepage of kykinfolk.com

For submissions or comments to this site, please email
Brenda Hume


Anderson County Coordinator
KY State Government Links
KY Sec. of State--click on Kentucky Land Office link.
Old KY & Va Rev. War patents are searchable.
There are also some wills included with these.
KY Geography, Maps, etc
More Resources
Counties of Kentucky
Anderson Co. wiki at Family Search
Lookup Volunteers
Map of Lexington Cemeteries from the Lexington Public Library
Sherri Bradley

,
KYGenWeb State Coordinator.

Hosted by:


KY National Guard Memorial Request
Come back often!
Site Last Updated -